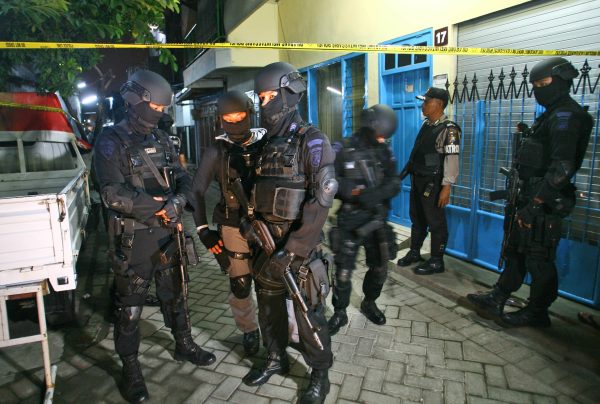 As Southeast Asia reopens, will transnational terrorism return? – The Diplomat
COVID-19, the climate crisis, the Myanmar coup, the Russian-Ukrainian war, and Sino-American competition have overshadowed the relative seriousness of terrorism. Many would struggle to remember a significant terrorist attack in the COVID-ridden years. Somehow, terrorism seems out of sight, out of mind.
It is not a surprise. In recent years, terrorism in Southeast Asia has been on the decline. Based on Activist Atlas of Southeast Asia developed by the International Center for Research on Political Violence and Terrorism (ICPVTR), S. Rajaratnam School of International Studies (RSIS), the number of violent terrorist incidents peaked in 2019 but saw a sharp decline after the start of COVID-19 in 2020.
Additionally, terrorist groups in the region, particularly in the Philippines and Indonesia, have suffered significant casualties at the hands of local authorities. The Armed Forces of the Philippines (AFP) invaded the terrorists' safe houses, neutralized the terrorist leaders and pressured many people into submission. In Malaysia, the Eastern Sabah Security Command (ESSCOM) eliminated individuals who were trying to create a safe haven in Sabah for Abu Sayyaf members fleeing the AFP. In Indonesia, Densus 88 (D 88), the national counter-terrorism brigade, has actively foiled plots, dismantled local terrorist cells and drastically reduced the frequency of attacks. Overall, the active enforcement efforts appeared to have paid off.
Strategic patience?
Despite efforts to contain terrorism, terrorist groups have continued to express a political will to violence. During the pandemic years, terrorist groups in Southeast Asia ceased combat operations and kept a lower profile in order to regroup. Analysts have noted that it is the practice of i dad (preparation for jihad), engagement in peripheral activities that strengthen operational capacity. These activities can include physical training, martial arts, fundraising, buying weapons, and recruiting, among others.
Groups like Jemaah Islamiyah (JI) began to infiltrate the Indonesian state apparatus, civil society and academia to advance their political goals. Particularly, Anung Al Hamat, who is a prominent member of Partai Dakwah Rakyat Indonesia (PDRI), an Indonesian Islamist political party, doubled as JI's top administrator. Anung was also engaged in academic circles and had published a book advocating for compulsory jihadist education in Indonesia.
In the Philippines, the Dawlah Islamiyah-Maute Group (DIMG) ceased proactive offensive operations and prioritized recruitment. The recruitment conditions are met. Due to ongoing skirmishes between the AFP and various militant groups, communities have become more marginalized and poorer. While the militants are unlikely to launch a major offensive in the foreseeable future, signs of regrouping and recovery are present.
It is therefore obvious that extremism will persist. Terrorist groups do everything they can to survive and come out stronger. Therefore, the momentary lull in attacks should not be interpreted as the absence of a threat. Globalization being the engine of Singapore's economy, it is also the engine of terrorism. In this capacity, the Minister of Defense of Singapore Ng Eng Hen accurately assessed that there could be a resurgence of terrorism as global travel resumes. Therefore, as the gradual reopening of borders is celebrated, we must remain vigilant.
Cross-border terrorism in Southeast Asia
Foreign influence amplifies local terrorist attacks. The infamous attack of September 11, 2001 was planned and coordinated in several countries. Khalid Sheikh Mohammed, the mastermind of the attack, had communicated extensively with Riduan Isamuddin (alias Hambali), the JI's operational chief, to facilitate the transit of al-Qaeda members through Kuala Lumpur International Airport (KLIA). Hambali went on to facilitate the 2002 Bali bombing, which killed more than 200 people. In Hambali's confession, he shared that al-Qaeda supported him with $30,000 for the attack and rewarded him with an additional $100,000 for the "satisfactory results".
Organizationally, JI had the ambition to expand its network across the region. While JI was formed in Malaysia in 1993, it moved its headquarters to Indonesia and established a JI-Singapore. In 1999, JI created the Rabitatul Mujahidin (Mujahidin Coalition) led by Abu Bakar Bashir to create a regional network of Islamist militants. This network aimed to pool the resources and expertise of various activist groups. The alliance allowed JI members from Indonesia, Malaysia and Singapore to train in havens for terrorists in the southern Philippines.
Foreign terrorist fighters
However, attacks on local soil are just the tip of the iceberg. The main concern of the authorities is the migration of foreign terrorist fighters (FTF).
Southeast Asia has seen three waves of foreign fighting. First, militants from Southeast Asia were called to arms during the Soviet-Afghan conflict. political scientist Thomas Hegghammer estimated the presence of 5,000 to 20,000 foreign fighters supporting the Afghan mujahideen. Southeast Asians who revenue Became the "Former Afghans; » they used their training and their transnational network to organize militant cells and carried out terrorist attacks at the local or regional level.
Second, Southeast Asians have been drawn to the Islamic State of Iraq and Syria (IS). After Abu Bakr al-Baghdadi declared the caliphate in July 2014, thousands of FTFs from around the world migrated to Syria to participate in the civil war. Based on Soufan Center 2017 report, more than 53,000 FTFs from 146 countries have joined ISIS in Syria. More than 1,000 were from Southeast Asia, including a Singaporean, Megat Shahdan Bin Abdul Samad, alias Abu Uqayl.
However, as ISIS lost ground in Iraq and Syria, it decentralized its organizational structure and created wilayahs (provinces) globally. the Wilayat Sharq Asiyya (East Asia Province) is the easternmost province of the Islamic State, encompassing Southeast Asian countries such as the Philippines, Indonesia, Malaysia, Singapore and Thailand. ISIS called on budding FTFs to gather in southern Philippines to lay siege kafir government.
IS's message was simple; if you can't travel, bring the fight to your backyard.
Ultimately, the mobilization of Islamist militants in 2016 led to the third wave of foreign fighting in May 2017, otherwise known as the Siege of Marawi. The five-month siege marked the most devastating war in the Philippines since World War II. Although the Siege of Marawi only took place in the Philippines, it was a regional operation. In addition to the combined arms of local terrorist groups like the Maute group and Abu Sayyaf, another 100 foreigners, including minors, migrated to Marawi to support ISIS. These FTFs included prominent commanders like Malaysians Dr. Mahmud Ahmad and Amin Baco.
Returning foreign fighters
Although foreign fights are happening abroad, it could be a local problem. The genesis and resurrection of some of Southeast Asia's deadliest terrorist groups, such as Abu Sayyaf and JI, were linked to al-Qaeda through the shared experience of the Afghan mujahideen. Afghan alumni, for example, have returned with combat experience and an international network to facilitate, organize and carry out attacks back home.
Ignoring FTFs that have traveled overseas would be a mistake. However, there is still no consensus among countries on the management of FTFs. Authorities are struggling to balance human rights, national security and government capacity. Today, about 700 Indonesians and 100 Malaysians are detained in Al-Hol camp or Al-Hasakah prison in northeastern Iraq. If the detainees are still not rehabilitated, they can pose a serious security problem in Southeast Asia.
Regional safeguards against terrorism
Southeast Asian governments recognize that the transnational threat requires a multilateral response. Beyond local law enforcement efforts and bilateral intelligence and extradition agreements, the Association of Southeast Asian Nations (ASEAN) has created mechanisms to strengthen its response to transnational terrorism. . Cross-border terrorism has been a staple in the ASEAN Defense Ministers Meeting More agenda.
Targeted sub-regional initiatives have also been put in place to combat transnational terrorism. For example, the Trilateral Cooperation Agreement (TCA) put in place in June 2017 aims to reduce violent maritime activity in the Sulu-Celebes seas. The ATT has also served as a border-hardening mechanism, as the Sulu-Celebes Sea is the main transit route for FTFs to travel from Malaysia to the Philippines.
The Our Eyes Initiative (OEI) was implemented in January 2018 in response to the Siege of Marawi in 2017. Recognizing the role of the FTFs in the conflict, several ASEAN members agreed to meet bi-weekly to exchange intelligence on militant groups and to develop a shared database on terrorism. The Southeast Asia Terrorist Financing Task Force (SEA CTWFG) was launched in November 2019. This task force aims to counter cross-border terrorist financing by forging a Partnership between law enforcement, industry and academia. The task force included the financial intelligence units of the Philippines, Indonesia and Australia.
After that ?
While other geopolitical events have certainly overshadowed the threat of terrorism, the threat should not be ignored. As international travel resumes, we can expect terrorists to fan the flames of war. International terrorist groups may seek to support local attacks, and FTFs with combat experience may seek to return home.
We are not defenseless. Law enforcement agencies in the region are doing their part to curb the rise and spread of terrorism. The region has taken steps to harden borders, improve intelligence sharing and reduce terrorist financing. Nevertheless, it is essential that policymakers update, revitalize and restart these multilateral mechanisms to mitigate the risks of terrorism in the region.