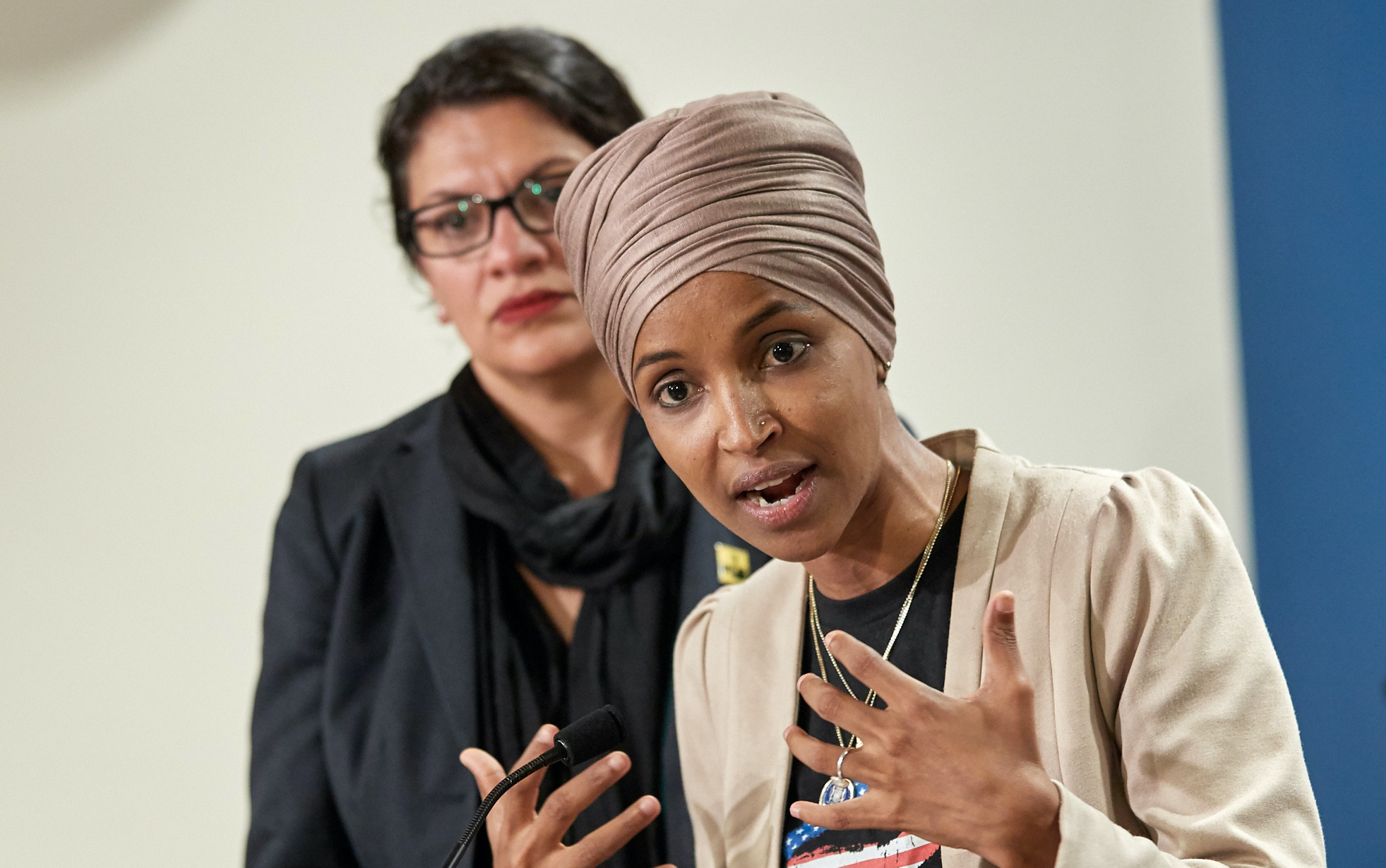 In Call for Accountability, Omar says Boebert carried out an "attack on millions of American Muslims"
On Tuesday evening, the three members of the Muslim Congress held a press conference to demand accountability for the latest Islamophobic comments by Republican representative from Colorado, Lauren Boebert.
The conference referred to a second video, released online Tuesday, of Boebert referring to Democratic Representative Ilhan Omar of Minnesota as a bomb terrorist and member of the "Jihad Squad."
In the video, recorded in New York at a Conservative Party dinner on Staten Island in September, Boebert also refers to Omar and his fellow Muslim Democratic representative. Rashida Tlaib from Michigan "evil black-hearted women who want to destroy America".
At Tuesday night's press conference, which included Omar, Tlaib and Democratic Representative Andre Carson of Indiana, Omar said Islamophobia permeates the Republican Party, "our culture, our politics and even our political decisions."
"When a sitting member of Congress calls a colleague a 'member of the Jihad Squad' and falsifies a story to suggest that I am going to blow up the Capitol, it is not just an attack on me, but on millions of Muslims Americans across this country, "Omar told the conference.
Omar said she had reported "hundreds" of threats to her life, often triggered by Republican attacks on her faith.
She then released a recording of a voicemail message she received on Monday, after Boebert posted a video implying that Omar is a terrorist sympathizer.
"We see you, sand [n-word] bitch, "voicemail began." We know what you're doing. You are all about to conquer our country. Do not worry. There are many who would love the opportunity to get away from this fucking land. Come and get it. But you fucking muslim shit. You're a jihadist … You won't live long, bitch. I can almost guarantee you. "
"To date, the leadership of the Republican Party has done nothing to hold its members to account," Omar said. "It is time for the Republican Party to do something to combat anti-Muslim hatred within its ranks and to hold those who perpetuate it to account."
At the conference, Omar said his goal at the conference was to help protect the lives of Muslims. Tlaib said she wanted to send a message to Muslims that Americans are speaking out against violent rhetoric like Boebert's. Carson pointed out that American Muslims work in the American justice system, including many police officers who helped in the aftermath of the September 11, 2001 terrorist attacks.
The conference was held in response to a lukewarm statement from House Republican Minority Leader Kevin McCarthy about Boebert's remarks. McCarthy's statement did not condemn the remarks. Arkansas Republican Governor Asa Hutchinson criticized McCarthy for failing to "publicly condemn" Boebert's comments.
In a video that surfaced last week, Boebert called Omar a member of the "Jihad Squad" while telling a story in which she hinted that a Capitol Police officer mistook Omar as a potential suicide bomber.
In the second video with similar remarks, Boebert tells a modified version of the story: "One of my employees, on his first day with me, walked into a Capitol elevator," Boebert told the crowd. . "And in that elevator, we were joined by Ilhan Omar."
Someone in the audience moans, "Oh my God." Another person remarks: "Press the emergency button. The audience then bursts out laughing.
Boebert continues, "Well there was just the three of us in there and I looked and I said, 'Well look over there. It's the Jihad Squad.'" The crowd laughed. and applauds his comment as Boebert smiles and looks around the room. .
"I have to say," adds Boebert, "She doesn't have a backpack, she wasn't dropping it or running, so it's okay."
In a Tuesday morning broadcast, CNN political reporter Andrew Kaczynski said that the absence of a Capitol Police officer in this account of Boebert's story lends "some credence to the fact that he is it's a made-up story that she tells a crowd for laughs, maybe. I guess the joke is that Muslims are terrorists. "
In her response to Boebert's Islamophobic remarks in the first video, Omar replied, "Actually, this buffoon looks down when she sees me at the Capitol, this whole thing is made up. Sad, she thinks bigotry has her influence. . "
Omar added: "To say that I am a suicide bomber is no laughing matter. … Normalizing this bigotry puts not only my life in danger, but that of all Muslims. Anti-Muslim sectarianism has no place in Congress.
Last Friday, Boebert tweeted a 41-word apology to the Muslim community for his remarks, calling the incident an "unnecessary distraction." Then, on Monday, Boebert called Omar to discuss the matter.
According to Boebert, Omar demanded a public apology "because what I had done was not good enough". Boebert told Omar that "she should publicly apologize to the American people for their anti-American, anti-Semitic and anti-police rhetoric."
The rhetoric mentioned by Boebert may refer to Omar's controversial past statements. She said that Israel's allies in US politics were primarily motivated by money. She also compared American war atrocities to those committed by terrorist groups.
Omar hung up on Boebert after deciding the call was "unproductive," Omar said on Monday.
"Instead of apologizing for her Islamophobic comments and fabricated lies… she instead doubled down on her rhetoric," Omar said.
In a Monday Instagram video recounting the call, Boebert accused Omar of "sympathizing with terrorists." Boebert has previously, baselessly, called Omar an advocate of "state-sponsored terrorism" and an "honorary member of Hamas."
Georgia Republican Representative Marjorie Taylor Greene also entered the controversy, referring to Omar as part of the "Jihad Squad" via Twitter on Tuesday morning.
Greene and Boebert have also both claimed without merit in the past that Omar was in an incestuous marriage with his brother.