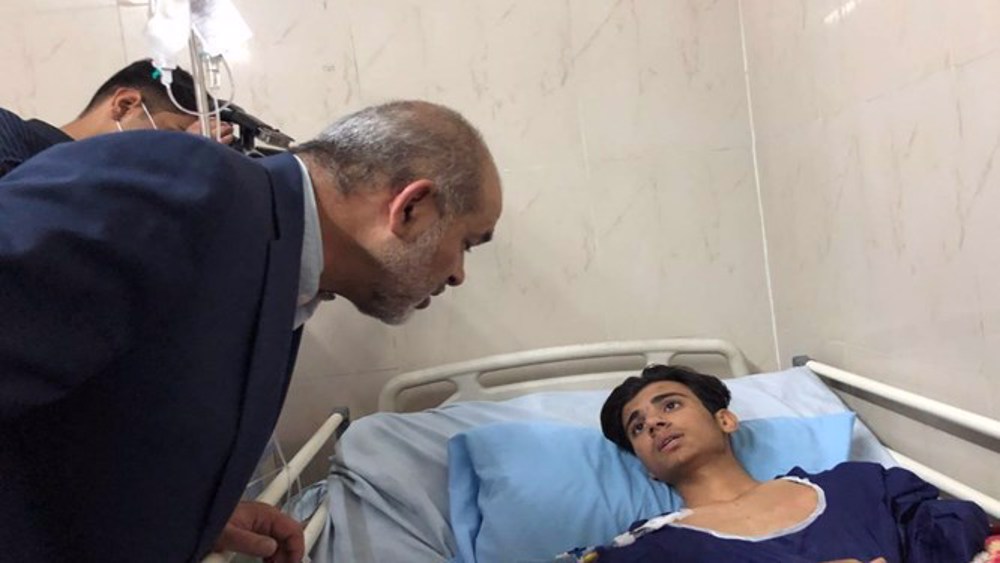 Iranian minister warns of 'hiding enemies' as he tours city after terror attack
Interior Minister Ahmad Vahidi calls on the Iranian people to close ranks against enemies during his visit to a city that has recently been the scene of violence by a terrorist group.
Vahidi traveled to Zahedan on Thursday where he met the families of those who lost their lives in the terrorist attack on a police station and a mosque in the southeastern city last Friday.
Zahedan is the capital of the province of Sistan-Balochistan, home to Iran's Baloch minority.
The terrorists torched a fire truck, an emergency station and a bank, but their attempts to spark ethnic sedition in the area failed, thanks to the timely presence of security forces, authorities said.
The attacks, claimed by the terrorist group known as Jaish al-Adl, left at least 19 dead, including police officers, and 20 others injured.
Vahidi warned against plots by enemies to wreak havoc across Iran.
"People should know that there are many enemies lurking around every corner, so we should oppose them strongly and end their enmity."
He said what happened in Zahedan was "bitter, which caused grief to a group of our compatriots", calling it a source of regret and sadness.
"We faced a large amount of destruction from rioters and those who aimed for unity, peace and comfort for Baloch and non-Baloch people. This is not unexpected from the enemy," did he declare.
"We have a duty to uphold our peace in honor of those who have died and to give a firm response to terrorist groups and rioters as we will not allow them to infiltrate our ranks," Vahidi added.
The minister said: "The enemy has targeted our unit, so we must show more than ever that the effort is in vain and that we will defend strong Iran and our borders and will not allow any interference in the affairs of our country." .
Vahidi also stressed the need to identify and punish the perpetrators of recent acts of terrorism.
Dismantling of a gang of arms traffickers in Khuzestan
On Thursday, the commander of the police force of the Iranian province of Khuzestan announced the dismantling of a gang smuggling weapons and ammunition in the city of Andimeshk.
Brigadier General Mohammad Salehi said police identified and arrested members of the four-member gang with two vehicles at the entrance to Andimeshk in a complex operation.
Salehi said 11,600 pistol rounds, 7,200 Kalashnikov rounds, two hand-held wireless devices, a large amount of rivets, among other items were discovered during the inspection of the seized cars.