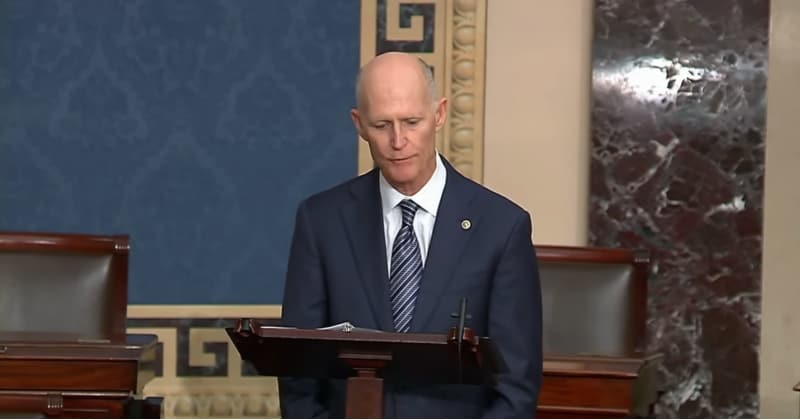 Rick Scott speaks in the Senate to mark the sixth anniversary of the Pulse nightclub terrorist attack and honor the victims
This week, before the sixth anniversary of the terrorist attack on Pulse Disco in Orlando, Florida, United States Senator Rick ScottR-Fla., introduced and passed by unanimous consent a resolution recognizing the anniversary and honoring the 49 innocent victims.
Last year, Scott led the effort in the Senate to unanimously pass his legislation with the United States Sens. Marco RubioR-Fla., and Alex Padille, D-California. establishing Pulse Nightclub as a national memorial. The legislation was approved by the United States House and signed into law.
Scott told the Senate the following on Wednesday:
"Nearly six years ago, our state, our nation, the city of Orlando and Hispanic and LGBTQ communities were attacked. 49 innocent and beautiful lives were lost. It was an evil and heinous act – an act of terrorism – designed to divide us as a nation and strike fear into our hearts and minds.
"But instead, we came together. We supported each other. And we persevered. We proved to the world what we already knew in Florida: Floridians are resilient.
"The days I spent in Orlando after filming will always be with me. I spoke to parents who lost their children. I went to funerals and wakes. hospital. It was one of the hardest things I've ever had to do. It was heartbreaking.
"But, in this horribly dark time, the selfless courage of so many, from community members to law enforcement to healthcare workers, has given a sense of hope. This incredible strength, love and bravery lifted Orlando and Florida State and helped us begin to rebuild.
"This week, on the sixth anniversary of this devastating tragedy, the State of Florida comes together to honor the lives lost too soon. And we pledge to always stand up and fight against evil and hate in this world.
"I was proud that last year Congress passed and the President signed legislation which I introduced with Senators Rubio and Alex Padilla to designate the location of Pulse Nightclub in Orlando as the 'National Pulse Memorial' which will honor the memory of those we have lost.
"Today, I ask all of my colleagues to join Senator Rubio and me in passing a resolution honoring the memory of the 49 lives lost in the heinous attack at Pulse Nightclub.
"Let us come together now to say that our nation will always stand against hatred and evil in this world."
Latest articles by Florida Daily
(see everything)