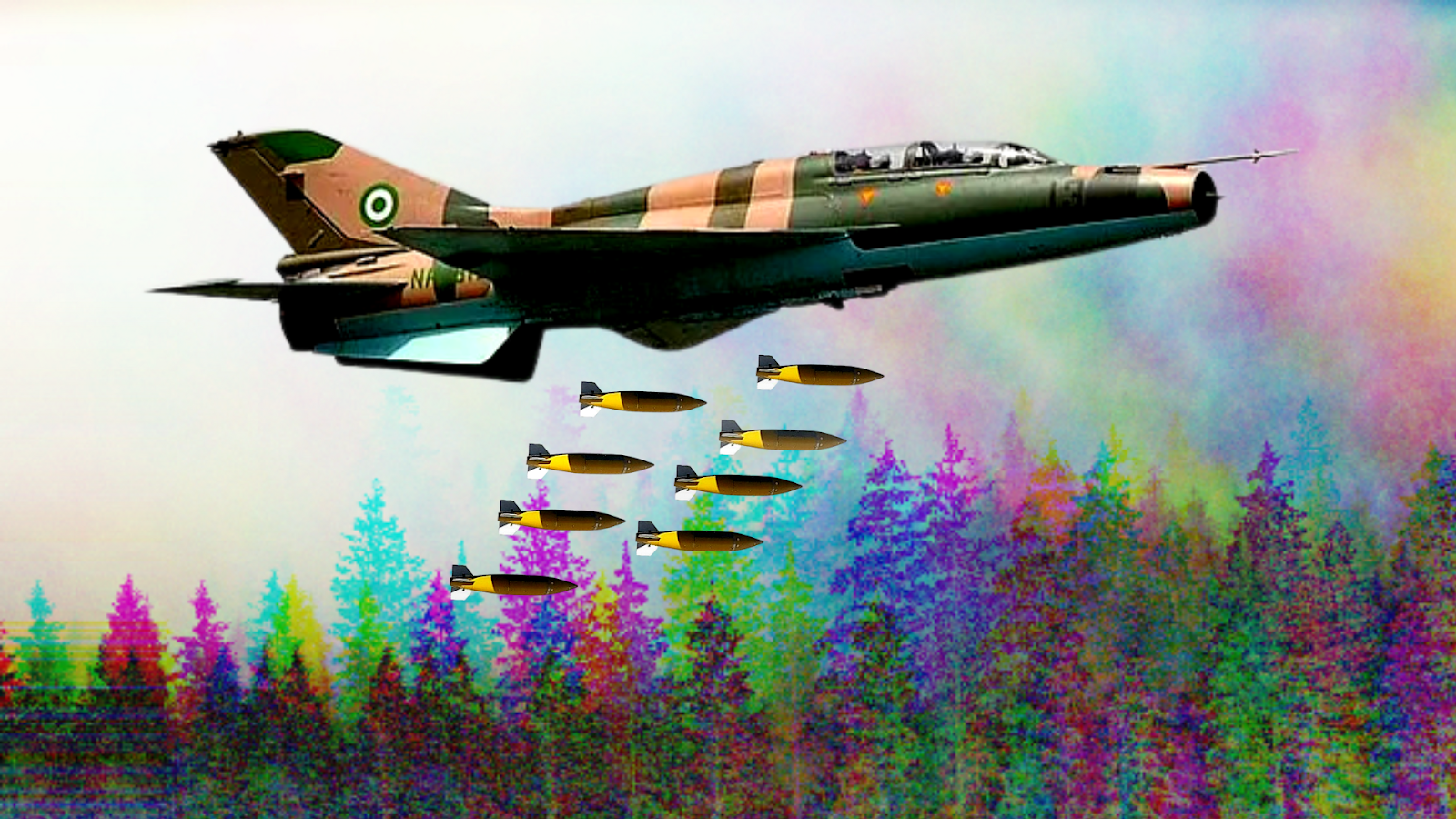 Should Nigerian forces bomb forest areas to fight terrorism?
Several Nigerians, including political leaders in the country, have floated the idea of ​​defeating terrorists in Nigeria through carpet bombing. Nasiru El-Rufai, the governor of Kaduna State in northwestern Nigeria, has repeatedly said argued in favor of the tactic, saying that it is the only way to carry out the fight against terrorists even in their hiding places.
Terrorists often seek refuge in the vast forest areas of Nigeria. To the northeast, the Sambisa forest, particularly the mountainous part of the Gwoza villages, has served as a haven for insurgents from Boko Haram and the Islamic State West Africa Province (ISWAP).
Several operations to remove them from the dense part of the forest have met with limited success due to the terrorists' better understanding of the landscape and their ability to exploit the local environment for concealment. Nigerian forces carried out frequent raids in certain areas of the forest. Yet Sambisa remained a notorious enclave for insurgents.
The vast Kamuku/Kuyanbana forest in the northwest connects Kaduna and Zamfara, and provides access to other states through mutually accessible forest areas. The Twin Forests have become a haven for several armed groups, including ideological and non-ideological armed groups. There is also the presence of Ansaru insurgents in the forest area, who use it for operations and coordinate spread drills in nearby villages. Many wandering shepherds also use it for grazing and establishing colonies.
"Waiting for them to attack before responding is not what will end these challenges. It is mandatory that we take the battle to their doorstep and take care of them," El-Rufai said recently. said.
He was referring to carpet bombing, a type of area bombing meant to cause the most damage and target almost everyone in a specific location.
Seventy-five (75) percent of Nigerians who responded to a Twitter survey in August voted in favor of using carpet bombs to eliminate terrorist presence in forest areas. But at what cost ?
Proponents of carpet bombing acknowledge that it will cause innocent victims, but argue that it is the lesser of two evils. According to them, any act of violence or military action leads to inevitable collateral damage that should be minimised.
"In this case, the carpet bombs will reduce future occurrences of terrorist actions by defeating them completely," said Balarabe Abdallah, a public analyst based in Kano. He warned, however, that this type of aerial bombardment should only be used as a last resort, and that "some places easily accessible by the military, infantry operations should be given priority".
But Idris Muhammad, a security analyst from northwestern Nigeria, dismissed the idea. The Nigerian armed forces are at an operational impasse, he told us, and what they need is more collaboration with those who have a better understanding of the forest areas, rather than doing this which would not only result in many innocent victims, but also deforestation which will aggravate climate change.
"The carpet bombing strategy will be disastrous," he said. "In forest areas, there are many villages and settlements that could easily be mistaken for terrorist hideouts." He added that terrorists know forest areas better than the military and that the use of air raids has posed many risks, especially for settlements near forest areas.
The Nigerian military has frequently engaged in aerial operations "by mistake" targeting civilians. More than 100 internally displaced people (IDPs) were killed in an airstrike five years ago in Rann, Yobe State. On September 26, 2021, 20 civilians would have died as a result of an airstrike in Dabar Masara, a town in Monguno Local Government Area (LGA) in Borno State. A similar event occurred in Zamfara, where an airstrike kill a wife and her four children. This year, a Nigerian fighter jet dropped another bomb, murder 17 people, mostly women and children, in Niger State. These and many other cases have left some Nigerians worried about the accuracy of air raids due to these and other factors.
Muhammad observes that terrorists are holding many innocent people captive, who could also be endangered by indiscriminate raids. "If terrorists are attacking anywhere, the Nigerian government should employ standard engagement strategies. No one wants their loved ones killed in the name of collateral damage.
It echoed what federal authorities had previously said. Information Minister Lai Mohammed said last year that the armed forces were exercising caution "to avoid collateral damage". Other experts further believe that such a strategy is more expensive to maintain because it is difficult to locate terrorists in a vast and dense forest.
Environmental risks
The threat of carpet bombs to civilians lies not only in the direct impact of explosives, but also in the form of unexploded bomb remnants and the destruction of the local environment and associated livelihoods. This could further aggravate popular grievances against the state.
The strategy, if adopted, could also lead to the depletion of significant forest areas and increase the rate of deforestation in northern Nigeria, a region already grappling with the impact of desertification and related security risks. to climate change.
Environmental resources and the effects of climate change have long been associated with communal conflict between farmers and herders, including in the northwest, where conflict is complex and driven by many factors.
"Carpet bombing will wreak havoc on the Nigerian government's reforestation plan, and no planting will bring it back sooner. The first step to saving our climate is to avoid anything that could endanger it," said Dahiru Sadi, a Nigerian climate activist.
Sadi recommended that the Nigerian forces step up their training to give them easy access to all parts of the forest areas to save lives from terrorist attacks that use the forest areas as shelter. "They should set up military camps in the forests," he suggested.
Since 2019, the Nigerian army has been considering using some forest areas as a training ground. The presence army in the Falgore forest, which connects Kano State to parts of the Plateau, has reduced the number of attacks that have started to be recorded in the region.
"The Nigerian government must adopt a strategy that isolates and surgically addresses threats, without causing havoc to local communities and the environment, which are mostly forest reserves and wildlife sanctuaries," said Murtala Abdullahi, responsible for armed violence and the climate. Security office at HumAngle.
He adds that what is needed is the capacity to put in place better surveillance and to strengthen the capacity of security forces to identify, track and contain armed groups.
This approach must go hand in hand with efforts to improve the presence of governance, management of environmental resources and livelihood opportunities for local people. "We don't need large-scale military operations or bases to secure and govern our reserves and parks," Murtala suggested.
"Yet that's no excuse"
However, some residents of terrorism-affected areas said they were not afraid to sacrifice some of their relatives who were held captive by terrorists if the airstrikes could end the problem of insecurity in their areas. They said hiding behind the goal of minimizing collateral damage in forest areas is no excuse if peace is desired in the region.
A resident of a forest area near Bukkuyum village in Zamfara, who preferred anonymity, said the relentless attacks killing people have made life unbearable. More than 20 members of his community, including his relatives, were recently abducted, and he said they were ready to sacrifice themselves for the good of others if peace could be achieved.
"Even if they die, we think it's martyrdom," he told HumAngle, adding that even if they didn't die in the process of making peace, they would perish at the hands of terrorists coming out of forest areas to attack their villages.
Many people in northern Nigeria, including some clerics, support the idea of ​​martyrdom at the hands of terrorists rather than giving them what they want or allowing them to live in peace.
The Imam of the Abuja Central Mosque, Sheikh Ibrahim Maqari, for example, urged its supporters not to pay ransoms to terrorists. The death of kidnapped victims is a form of martyrdom, he said, and is preferred to providing kidnappers with money, who could then use it to harm others.
---
Support our journalism
There are millions of ordinary people affected by conflict in Africa whose stories are missing from the mainstream media. HumAngle is committed to telling these difficult and under-reported stories, hoping that those affected by these conflicts will find the safety and security they deserve.
To make sure we continue to provide public service coverage, we have a small favor to ask of you. We want you to be part of our journalistic enterprise by bringing us a token.
Your donation will further promote a strong, free and independent media.
Donate here